When you mention vinyl flooring, most people chuckle and scoff at the idea of adding it to their homes. For many, it conjures up memories of giant sheets of cheap lino popularly used for kitchens and baths 20, 30, or 40 years ago.
How times have changed! Today's luxurious vinyl flooring is designed to provide superior durability and a low-cost alternative to more expensive wood, tile, and stone flooring options.
Best of all, vinyl flooring continues to evolve. In fact, it's evolved more than hardwoods, tiles, and any other type of flooring over the past decade. Every year, vinyl flooring manufacturers are pushing the envelope to develop incredibly realistic looks that make more and more homeowners do a double or triple-take.
The days of having to choose between stone or tile and wood or laminate are long gone. Thanks to cutting edge technologies, vinyl flooring has caused flooring revolution.
In 2017, the trends were all about vinyl floors disguising themselves as other materials. Guess what? This trend is alive and kicking in 2018 as well.
From gorgeous distressed and hand-scraped wood looks to metallic looks, natural stone looks, and more, you're about to see the many reasons why vinyl is the number one flooring option in 2018.

Wood-Look Vinyl
Not long ago, laminate was the only option for wood-look flooring aside from, well, wood. Then, seemingly out of nowhere, vinyl wood-look flooring jumped into the realistic wood-look ring and begin giving laminate a legitimate run for its money.
As a result, both laminate and vinyl flooring manufacturers began improving their designs step for step as each tried keeping pace with one another. This increased level of competition has brought the best out of each, and one look at the market is all it takes to recognise they've certainly brought their A games.
So, what does all this mean? It means wood-look vinyl and wood-look laminate are now equally realistic. Today, they both look just like the real thing. However, vinyl is more versatile and requires even less maintenance!
That's right; the days of ugly 1980's vinyl are long gone. You can now find shockingly realistic wood-look vinyl that will win over even the most die-hard wood or laminate fans. Combined with its ease of maintenance and waterproof capabilities, it's easy to see why vinyl flooring is quickly becoming all the rage.
Wood-look vinyl isn't only making its way into more and more homes. It's becoming more and more popular for commercial uses as well. Just take a look at the floors of your favourite grocery stores, restaurants, and so on and you'll see vinyl floors that look just like real hardwoods. It's also incredibly popular in the growing tiny houses trend, where floors are a lot smaller in overall size.
Why? It's simple: customers love the upscale look of hardwood floors and owners love the easy maintenance of vinyl. Wood-look vinyl is the perfect solution.
In 2018, more and more homes and businesses will replace their worn-out floors with wood-look vinyl. Vinyl flooring manufacturers will also produce increasingly realistic wood looks to mimic today's hottest wood flooring trends.
Distressed Looks
Often confused with hand-scraped wood looks, distressed looks are designed to look as though they've seen many years of wear and tear. Vinyl flooring manufacturers are creating designs with knots, wormholes, scrapes, burns, and other signs of ageing to create wonderfully aged and charming antique looks.
Hand-Scraped Looks
Hand-scraped wood-look vinyl flooring features long scrapes with ample variation from one plank to the next, making each one appear unique and handcrafted.
Wire-Brushed Looks
Unlike hand-scraped looks, wire-brushed looks have subtle wire-like scratches to give the appearance of texture and natural exposed wood. In addition to being much more subtle, these intentional imperfections are more consistent and uniform as well.
Stone-Look Vinyl
The same technology used to create realistic wood-look vinyl is also being used to create realistic stone looks in the form of luxury vinyl tiles, or LVT. To the untrained eye, these "tiles" beautifully mimic gorgeous natural stone.
This has been a HUGE gamechanger in the flooring world. You no longer have to pay an arm and a leg for soft marble, brittle slate, or glazed ceramics. Since vinyl flooring can be installed in minutes or hours and not days, installation is much less expensive and time-consuming as well.
In 2018 and beyond, vinyl flooring manufacturers will create even more realistic looks to mimic today's hottest tile and stone flooring trends.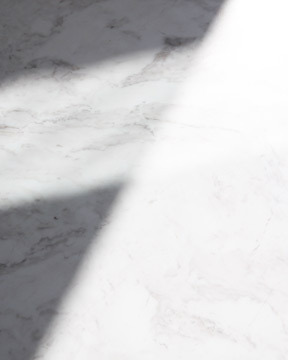 Travertine Looks
Want to transform your home into a castle or add timeless elegance to your commercial business? If so, travertine vinyl flooring is a great option. Despite being used in ancient architecture for thousands of years, travertine is experiencing a resurgence in recent years, and 2018 is no different. You can now find travertine tiles with different veining, patterns, and colours in the form of inexpensive and low-maintenance LVT. Isn't technology grand!
Marble Looks
Much like travertine, marble is elegant, chic, and will always remain in style. Marble, however, is known for its beautiful translucence and unique veining. It's also super porous, soft, fragile, and expensive. In an effort to bring the look of marble and affordability and durability to any home, you'll see plenty of marble LVT looks in 2018.
Slate Looks
Slate flooring provides a contemporary look and it's quite trendy in 2018. Equally trendy, however, is slate LVT. You can find it in a number of colours to perfectly mimic the real thing at a fraction of the cost.
Concrete-Look Vinyl
Concrete floors are becoming increasingly popular as more and more business and homeowners are opting for the sleek, modern, and upscale look that polished and stained concrete provides.
Unfortunately, concrete has zero give and isn't exactly easy on the bones and joints, so people are beginning to turn to concrete-look vinyl floors. Concrete-look vinyl is more comfortable to stand on than hard concrete, and while concrete floors are less expensive than stone or hardwoods, concrete LVT is even more affordable.
In 2018, you'll see more and more concrete-look vinyl flooring options and run across it in all kinds of trendy hotels, condos, and other spaces.
Metallic-Look Vinyl
Talk about cool! You don't have to be Mark Bezos or a Saudi sheik to have a floor that shines, shimmers, and looks like a million bucks. Thanks to metallic-look vinyl, anyone can enjoy the sleek look of a metallic floor.
It's worth noting, however, that metallic-look vinyl flooring isn't just sheets of shiny film. In fact, it's more similar to traditional wood or stone floors, except it has a little more shine and shimmer of course.
That being said, metallic-look vinyl doesn't exactly look realistic or natural, so it goes against two of 2018's biggest vinyl flooring trends. However, its cool factor is off the charts!
As such, you can expect to find metallic-look vinyl in trendy bathrooms, restaurants, and a number of bold spaces in 2018. When paired with the right décor, it can transform any space into a unique, visually stunning design masterpiece.

Waterproof Vinyl
Many people have never heard of wood plastic composite, or WPC. Also known as waterproof core, WPC vinyl tile and plank flooring is 100 percent waterproof, making it extra-durable and ideal for almost any space.
However, it's not just WPC's waterproof design that makes it one of today's hottest vinyl flooring trends. Since it's the crème de la crème of the vinyl flooring market, WPC flooring is also available in a wide-variety of realistic, great looking designs.
In fact, you'll see WPC vinyl tiles looking exactly like travertine, marble, terrazzo, slate, and virtually every other type of tile you could imagine. The same can be said of WPC vinyl planks. From hand-scraped to distressed, there are WPC planks that mimic all of today's hottest wood flooring trends.
WPC got its start in commercial spaces. Haven't you noticed all of the "hardwood" floors popping up in grocery stores and restaurants? Guess what? That's not wood you're walking on, it's WPC vinyl.
In 2018, WPC vinyl has begun transitioning into homes as more and more homeowners are discovering the bevy of benefits associated with having a completely waterproof floor, especially in bathrooms, kitchens, basements, and other areas with a high likelihood of water exposure.
Vinyl Flooring Beyond 2018
As you can see, the vinyl flooring industry is buzzing with new designs and opportunities. There are several vinyl flooring options trending right now, even some we haven't mentioned, and all of them look like they'll continue trending upwards in 2019 and beyond.
The possibilities truly are endless. So, say goodbye to expensive, outdated materials and transform your floor with one of today's hot vinyl flooring trends. You'll be glad you did!