Fresh paint and landscaping may make a great first impression, but if you want your home to make a lasting impression as well, the floors better be up to standard.
After all, what's the point in having premium finishes and modern appliances if your floors look like they're stuck in the 80's?
For years, traditional stone or ceramic tiles, timber, and carpet have been the go-to floor covering options for the majority of homeowners.
While these time-tested flooring choices will always be en vogue, the expense of the materials and the labor involved make travertine or Brazilian chestnut flooring a dream for most and a reality for few.
So, what is a budget-conscious homeowner to do? Are there any flooring options that look just as stunning as marble, but cost a fraction to buy and install? Yes, there certainly is!
Your Luxury Flooring Solution
Vinyl flooring is the solution. Today, there are hundreds of different styles of premium vinyl flooring out there to choose from, and the quality is so good it's often hard to distinguish it from real stone or timber.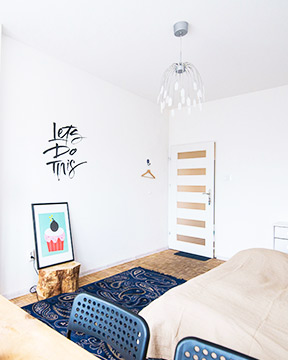 Loose lay vinyl is also a breeze to install compared to timber planks, stone tiles, and other traditional flooring materials. Some homeowners even choose to do the install themselves.
Best of all, thanks to the huge variety of styles, colours, finishes, and textures to choose from, you can create any look the designer in you desires. With the continuing development of modern luxury vinyl flooring, anyone can enjoy stunning floors without breaking the bank.
Luxury Vinyl Simulates Natural Materials
There are endless luxury vinyl designs, but they're all designed to do one of two things: simulate wood or stone.
That's right; today's luxury vinyl flooring almost perfectly resembles slate, marble, travertine, teak, walnut, maple, oak, pine, and the list goes on. It's high on luxury and style but light on your wallet.
Sheet Vinyl is a Thing of the Past
Most people associate vinyl with those wretched linoleum floors of yesteryear. However, modern luxury vinyl flooring is often plank or tile shaped. In fact, in the flooring industry it's known as LVT.
Unlike cheap sheet vinyl, LVT is cut into individual pieces just like real wood or stone. In addition to the amazing prints, this adds to the luxury and realism of their looks.
Composition is Key
Luxury vinyl flooring is also different in its composition. While wood-look LVF is almost always 100 percent vinyl, stone-look LVFs are comprised of both vinyl and a mineral-rich limestone mixture that serves as the base layer.
Luxury Vinyl Tile vs. Luxury Vinyl Planks – What's the Difference?
High-quality vinyl tiles can certainly provide you with a classic black and white checkerboard look. However, your design options are far from ending there. From a stone resort-style look to shiny aluminum and everything in between, premium vinyl tiles are made to replicate virtually every look.
Tiles are also easy to install and replace. In fact, if one or a handful ever become damaged, you can replace them in no time at all and not have to worry about chisels, jackhammers, and ripping up the entire floor.
Luxury vinyl planks are just as easy to install and replace, and there are designs that simulate every type of timber imaginable. Thanks to modern technology, vinyl planks can be embossed to replicate everything from wine-stained oak to rich mahogany.
Although luxury vinyl tiles and planks are just as charming and practically identical to the real thing, they're both available for a steep discount over traditional stone and hardwood flooring. Choosing the right luxury option for you largely comes down to a matter of preference and taste.

Luxury Vinyl Flooring at the Online Flooring Store
At the Online Flooring Store, we're your local Aussie vinyl flooring professionals. Proud of what we do, we offer an unsurpassed selection of luxury loose lay vinyl flooring and aim to blow you away with our options and first-class service.
If you're looking for luxury flooring at discount pricing, get in touch with us today. Our friendly, knowledgeable staff will show you your options and guide you every step of the way.
Luxury is no longer only for the rich and famous. Thanks to modern technology and people like us, it's for everyday Aussies just like you too!